Hi Amanda:
It was definitely a trip to remember! We covered quite a bit of the country and saw many beautiful sites. Here is the feedback you requested:
The flight to Amsterdam and the connecting flight to Glasgow
went smoothly and on time. So convenient not to have to collect our baggage in Amsterdam, knowing it would be forwarded to Glasgow and waiting for us when we arrived.
The Jury's Inn in Glasgow was well situated for getting around the city. We enjoyed walking to the nearby shopping areas and it was great to be so close to the car rental company when it came to pick up the car.
We took advantage of the "Glasgow City Site-Seeing Bus" with its hop-on, hop-off feature. Among other things, we visited Glasgow Cathedral and the Necropolis (which gave a great view of the city).
The car rental went smoothly, although they apparently did not give us a "load cover" for the back hatch which was questioned when we returned the car in Edinburgh. We did not realize it was supposed to have been there so knew nothing of it.
The car itself was a Nissan Juke which was very manageable and easy to drive. The only complaint I would have about the car is the windshield washer fluid compartment which was empty when we got the car. Driving in the Highlands, I think every bug in the area committed suicide on the windshield and it was very hard to clean off. I picked up some washer fluid at the next gas station but the washer ejectors on the car were so weak that it didn't make much of a difference. Probably just my perception, I drive a Jeep Patriot at home and the windshield washer fluid shoots out so strongly that I think it probably cleans the car behind me too. LOL!
The Holly Tree Hotel in Glencoe was very nice and right on the water. We used our time here to visit castle ruins and took a 90 minute cruise on Loch Linnhe. Although it was rainy and windy that day, we saw some beautiful scenery.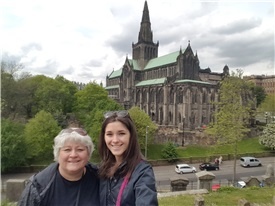 On to Skye – which Maggie and I agreed was the favourite part of our trip. The people were so friendly and the waiter in the Bosville Hotel (John) was very helpful with directions on how to get to the local sites. Unfortunately, we needed his assistance because (for some unknown reason) the TEP mobile WiFi did not work on Skye. I don't know if it was due to location but Maggie could not get a signal on the device the whole time we were on the island. That did not stop us from getting around and we saw the Fairy Glen, Fairy Pools, Old Man of Storr and visited Dunvegin Castle. Driving on the one-lane roadways with only occasional pullover spots for passing was a challenge to say the least! Maggie was delighted when our progress was slowed down by sheep wandering onto the roadway. We also found a Highland cow grazing in a pasture and Maggie got a good picture of it. However, the highlight of this stop was definitely our archery lesson! Maggie had found a place online and booked us in before we left. It was called A.C.E. Target Sports and run by a very nice young man named Matt. He was an excellent instructor and had us do a little competition towards the end of our lesson (I won!) – he also threw in an axe throwing lesson to boot! I would highly recommend it for any of your future clients.
On to Ullapool just for one night. The Skylark B&B was a beautiful place sitting up on a hill overlooking the ocean – fantastic views. The room was excellent. The owners (Pauline and Karl) were very friendly and we had great conversations with Pauline. Maggie also voted this the best breakfast she had on the trip.
The Pennyland B&B in Thurso was also nice – though by this time (with all the walking/climbing we had been doing), I wished our room had not been on the top floor! LOL! The hosts here (Raymond and Carol) were also very friendly and accommodating. We took advantage of a ferry ride/bus tour of the Orkney Islands while staying here where we saw the Italian Chapel (built by POWs during WWII), the Ring of Brodgar (standing stones) and visited some small towns – including Stromness that had a music festival in progress where we saw musicians in the street and the pub playing Celtic music.
On to Inverness – the hotel was very nice but when it came time to show us our room, we were taken out of the hotel and down the block to a brownstone building where, again, we were in the top room of a 5-floor walk-up! If we had been staying more than one night here, I think I would have had to ask for a room change because the walk up to the room was exhausting for someone my age. However, we did take a boat tour on Loch Ness before we left the area and visited Culloden Battlefield & Visitor Centre.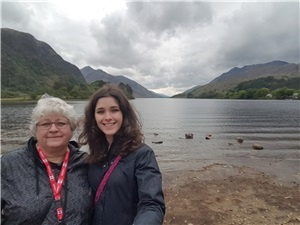 On to Edinburgh – this was a 3 hour drive so, at about the 2 hour mark, I told Maggie I needed to stop for a rest. We pulled off in a little town called Bankfoot that had a Visitor Centre with a restaurant. The centre also had a neighbouring paddock that held a Highland Cow! Navigating the streets of Edinburgh in the car was challenging (Thank God, the TEP was working here!) but we finally found the car rental drop-off and returned the Nissan. From there, we walked to the Radisson Blu Hotel. What a nice surprise to find the bottle of champagne from you and the Crystal Travel Group in our room when we arrived. Unfortunately, when we checked out of the hotel, the desk clerk tried to charge us for it. I explained to him that it was already in the room when we arrived and that it was a complimentary gift from you but he was quite rude and insisted we pay. I finally had to show him the card that had been left with the bottle and he grudgingly admitted that we had not signed for the bottle. I have not checked my credit card statement yet, but I hope I was not charged for this.
Other than that, the hotel was very nice and central to the Royal Mile and shopping. We visited Edinburgh Castle and went to an attraction called Edinburgh's Dungeons which was a lot of fun. The second day we took a bus tour of Dunfermline Abbey (I was born in Dunfermline), Stirling Castle and Rosslyn Chapel.
The day of departure was long to say the least. Our flight from Edinburgh to JFK was delayed by over 2 hours which meant we could not catch the original connecting flight at 3:00 pm. and were rescheduled for a 9:00 pm flight to Toronto. I had arranged for a limo pickup in Toronto so I was able to e-mail the limo company to inform them of our delayed arrival. However, the 9:00 pm flight from JFK was then delayed by 20 minutes but, in fact, left almost an hour late (10:00 pm). I was worried that the limo driver would not be there when we got it but, thankfully, he was – so we finally made it home about 1:30 am. Just a suggestion for your future clients – I think it would be better to connect flights through Amsterdam instead of JFK. JFK is such a confusing airport and we had to collect our baggage and recheck it in for the flight to Toronto which is something we never had to do connecting through Amsterdam.
I sent the TEP device back yesterday from our local FedEx operator.
Thank you for all your help with this trip, Amanda! It has certainly been an adventure to remember.
Bev & Maggie