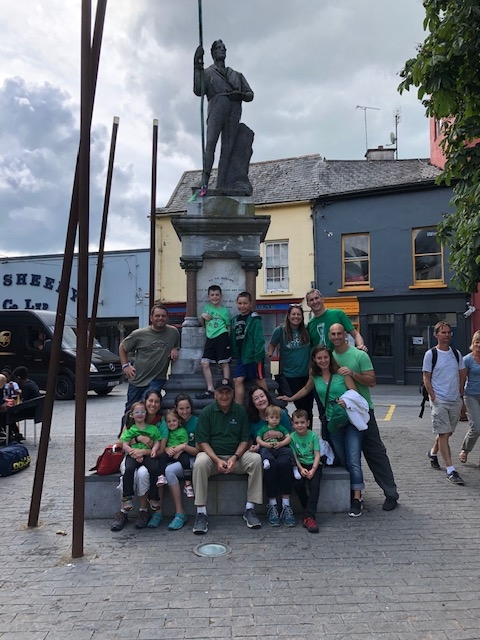 The Bemish/Donovan/Romeo family traveled in a large group of 15 to Ireland in July 2019. They made family memories to last a lifetime, visiting their ancestral home of county Cork. They honored the figures of their past and introduced the future of their family- their seven grandchildren- to their family history.
Here's what Cathy had to say about their trip:
First and foremost, we all thank you personally and Crystal Travel for guiding us to create a wonderful, memorable and meaningful trip to our family's (the Irish side of our family!) ancestral home. We were in your eminently knowledgeable, caring and professional care, and we were all safer and happier because of your expert guidance, especially after the Boeing tragedies and the cancellation of our Norwegian flights. Here are our thoughts, as you
requested, about components of the trip.
1. Flights:  Although travel with our seven grandchildren and fifteen of us in total would have been much shorter and more manageable had our original Norwegian flights been operating, the Air France options that you provided through CDG/Paris got us safely to Cork. All flights were comfortable and smooth.   
2. Meet and Greet:  This service was extraordinarily helpful! The greeters (three on arrival in Paris; four on our return) were kind, patient with our large group, had the three strollers waiting and not only helped us navigate an airport known to be challenging but shepherded us through security with no issues. When our return flight out of CDG was delayed by three hours, bumping the layover of four hours up to seven, the greeters informed us of the delay and that our departure gate had changed. They helped us determine how to spend the time (we stayed at the airport) and led us to the correct gate. They then oriented us to the departure area, assistance that was so welcome as we faced that long delay with young children. 
3. Rental Cars:  The two Hertz vans and all requested car seats were waiting at Cork International.  Both cars were great and in good condition.  Our only comment for future travelers is that navigating many of the narrow local roads in large vehicles was an even greater challenge than we had anticipated!
4. Shorecliffe Location:  This property was truly in the BEST location, halfway between my grandfathers' family home towns of Skibbereen and Clonakilty.  The village of Glandore could not have been more p
erfect, just a short walk from the house.  Simply walking to one of the three terrific local cafes or to Casey's Pub for a few pints was a gift!  
5. The Shorecliffe property itself is spectacular, with its beautiful gardens, views, pool (cold but some of the kids still swam), and a hot tub which worked only for one day — the jets were on when we arrived, and the water was warm, but the next day it wasn't functioning; too bad, as the kids would have loved using it. The Main House was lovely, very well equipped and very clean. The Mews was, as described by Dream Ireland, not as well equipped, updated or decorated, but it also was not as clean.  John and I stayed there, and the kitchen had been overlooked, with food debris still left on the kitchen counters and stove; both bathrooms and the kitchen had dead worms in the sinks, so clearly a once-over had not been done before we arrived.  Also in the Mews, the upstairs shower where the bedrooms are located produced only scalding water and was not usable, and the kitchen fridge leaked all over food. Our major issue with Shorecliffe, however, was that being met by the caretaker or housekeeper would have headed off several problems. The Dream Ireland 
documents had stated, "Full instructions will be provided by the caretaker or housekeeper on arrival."  As you know, that did not happen, and we were instead given access to the house via a lockbox. We could not find the requested high chair (which turned out to be locked in a storeroom), or keys to the gates to the road and to the beach. We ran out of hot water as the heater was on a timer, but no instructions were provided about that. The clothes dryer door had apparently broken prior to our arrival and a temporary fix put in place which didn't hold; thus the dryer would not operate (a problem with several little ones). Dream Ireland documents had mentioned that the dishwasher door was fragile, so we had expected that and were very cautious with it. When we put a call in to Tonya (the 'housekeeper' and according to local residents, one of the owners in London) on Sunday about keys, the high chair, the dryer door, and the scalding shower in the Mews, we told her that we had expected to be met at the house by the caretaker or housekeeper to be given "full instructions" and that would have been so much more helpful. Tonya was not sure which keys opened which gates or doors but did tell us where to find a full set.  She told us she would send Kerry, the caretaker, over the next day, Monday, and he was truly apologetic, kind and helpful. He was unable to fix the Mews shower, but he did fix the dryer door and explained about the hot water timer and other issues we had. In hindsight, these were all relatively minor issues but had Kerry been there to meet us, we would have had a much smoother start to our holiday!    
All that said, Ann, we don't regret anything.  Shorecliffe and Glandore were perfect locations for us!  From that home base we visited and loved Drombeg Stone Circle, Clonakilty (the best Black Pudding) where we took photos of our family at the statue of our ancestor, Tadhg O'Donovan An Asna, Inchydony Beach, Cobh, Glengarriff and Garinish Island, Blarney Castle, Kinsale, Union Hall (where half of us kayaked), the West Cork
Model Railway Village (the other half!), the Skibbereen Heritage Center and Lough Hyne, Baltimore and the Fota Wildlife Park!!
We are infinitely grateful to you and Crystal Travel!  What memories we all have of Ireland! One of the local Glandore residents we met at Casey's Pub helped to make the trip even more meaningful for me. He said that we all die twice . . . once when we physically die, and twice when no one remembers or says our name. So he suggested we — John and I, our sons who were with us and the people we had just met — all raise a glass in memory of my grandparents while I said their names aloud. Through tears, really happy tears, I did.
Best to you all,
Cathy and John … and all our Bemish/Donovan/Romeo family
In the note, we neglected to mention the lovely welcome gifts on the kitchen table in the Main House at Shorecliffe:  coffee, soda bread and jam, a fruit dessert, wine and lavender seltzer!  All were delicious and such a treat after our long hours of travel. We were and are appreciative and grateful.
Full Name Cathy & John
How would you rate your trip overall? 5 stars

Who was your Travel Expert? Ann

How were your accommodations? Great. Location. Location. Location. Proximity to the village of Glandore, short walk, to pub and restaurants. Beautiful harbor. The property itself – the house, the landscaping, amenities were all wonderful.
Did everything go smoothly with your transportation? Yes. All the flights themselves went smoothly. A 3 hour delay in CDG on the way home led to a 7 hour layover which was challenging as we labored to keep all the children happy. The meet and greet at both ends of our travel through CDG was exceptional and relieved a lot of anxiety traveling with 7 young children.
What tours, attractions, or activities did you particularly enjoy? We enjoyed everything we did, even our encounter with a herd of cows in the road who viewed us as the nuisance! Clonakilty and the family photo at the statue of an Irish ancestor, Blarney Castle, Dromberg Stone Circle, the skiff to Garinish Island in Glengarriff, Lough Hyne, Fota Wildlife Park, Skibbereen, Kinsale, Irish breakfasts, Casey's pub in Glendore, kayaking in Union Hall.
What was your favorite part of the trip?: Visiting the statue in Clonakilty of the ancestor who led a rebellion against the British in 1796.
Would you travel with us again?
Yes. Ann and her colleagues did a phenomenal job in making all the
arrangements
for our family's "trip of a lifetime", especially after our original flights were cancelled. Making this trip work for 15 family members and providing things like the meet and greet were instrumental to the enjoyment of our Ireland adventure.
Any other questions or comments? We could not have been more pleased with the service provided by Crystal Travel and have already recommended your agency to several friends.