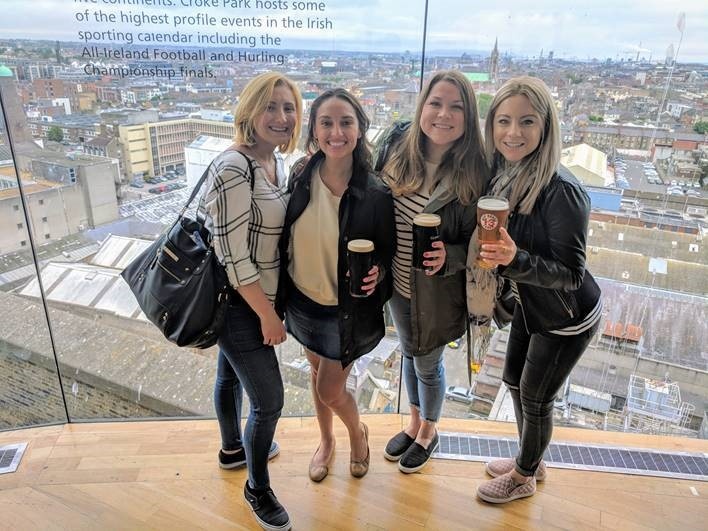 What's the perfect itinerary for a girls' night? We say it's a bottle of wine, a few best friends and lively conversation. In 2018, Julissa Pio and her friends added a special ingredient: planning an international adventure!
It started out as any normal get together. It wasn't long before someone said the two magic words: Girls Trip. After various places were mentioned, the ladies all agreed on going to Ireland, a place none of them had visited before. The land that has captured and inspired so many hearts was just the thing to make their getaway an incredible journey. They wanted to explore everything from the bustling city life of Dublin to the rustic countryside of the Wild Atlantic Way. Ultimately, Julissa and her friends wanted to get the most out of their trip. That's when she remembered something.
"I was speaking with my husband about our idea, and he reminded me to reach out to Kevin at Crystal Travel. We both knew it would be perfect because Ireland is Kevin's bread and butter," Julissa said.
She and her husband had used Crystal Travel before for another wonderful adventure in the past.
"Kevin helped plan our honeymoon to Italy," Julissa said. "It was the last thing I wanted to worry about. All of the details get to be overwhelming. We just put everything in Kevin's hands. When he gave us the itinerary, I was thrilled! It was one less thing I had to worry about."
After getting in touch with Kevin, Crystal Travel's Head of Business Development, Julissa explained the type of trip the ladies had in mind.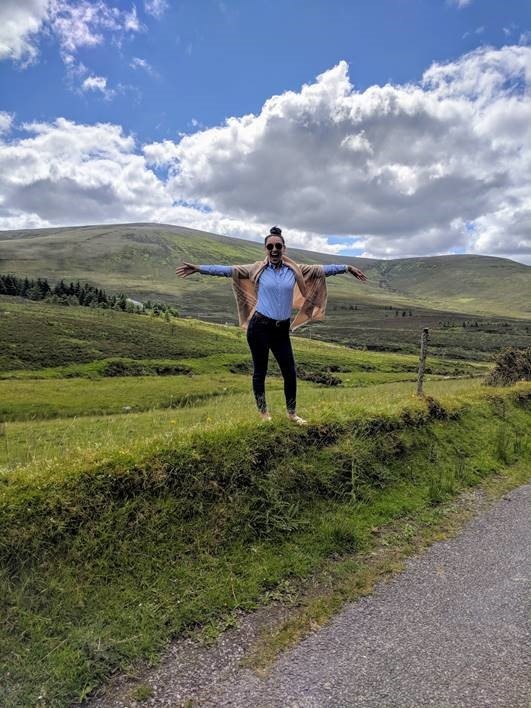 "I knew we definitely wanted to drive around Ireland, so I wanted to make sure we picked places that were within proximity to each other," Julissa said. "We wanted a route that was logical and was convenient for us when we drove."
Kevin knew just the person to make this trip unforgettable: Travel Expert Natasha. No stranger to the Emerald Isle, Natasha has traced her family ancestry back to Ireland and spent a lot of time on its west coast. No matter where she sends her clients, Natasha encourages them to experience an area's culture and surroundings.
Julissa told Natasha about the group's ideas for their dream vacation to Ireland. The ladies had a combination of places in mind. There were places friends had recommended and that Julissa had read about in blogs
"I took my ideas and handed them off to Natasha," Julissa said. "She really fine-tuned everything, which was amazing. Advice like that was exactly what I needed."
Julissa appreciated Natasha's youthful vibe and approach to planning the girls' trip. The ladies connected over their passion for travel, as well.
"I love that Natasha had a young look and feel to her. Being able to relate to her was huge for me. Even just through emails, there was a youthful personality and a shared excitement," Julissa said.
That excitement only increased when Julissa received her Crystal Travel documents from Natasha. Once a trip is booked, each travel expert mails their client a package with important items to take on their journey. Julissa appreciated the organization and attention to detail that went along with this.
"It was perfect! I didn't have to worry about printing documents, where to find places, who to talk to – everything was laid out for us," Julissa said. "It was such a relief to have our travel packet with all the information and just go have fun."
When the time came to board their flight across the pond, the ladies were ready for adventure. With places to see and things to do, Ireland put on a great show just as she always does. Julissa and her friends enjoyed making memories in Dublin at the Guinness factory. While there, they heard the story behind the iconic Irish drink and got to sample a pint.
Outside of the bustling city, the ladies explored the outdoors in areas like the Wicklow Mountains and Glendalough.
"Everywhere we went was so beautiful!" Julissa said. "We went from one place to another and continued to be amazed. Every corner was better than the last."
The ladies left the east coast for the west and discovered many gems along Ireland's Wild Atlantic Way. Together, they saw the sights of the Ring of Kerry and marveled at its rolling hills. The breathtaking views didn't end there, and the sunshine the ladies experienced only made things better. This was uncommonly good, as Ireland isn't typically known for sunny skies. "We definitely had the luck of the Irish on our trip," Julissa said. "The weather was perfect!"
During their visit at the Cliffs of Moher, the ladies noted many locals doing some sightseeing of their own. Julissa recalled Irish natives telling her they'd lived in Ireland their whole lives and not been able to see the Cliffs on such a beautiful day before.
"It was truly something!" Julissa said.
Other highlights included the ladies' accommodations. During their time in County Kilkenny, Julissa and her friends stayed at the beautiful Mount Juliet Estate.
"Natasha did her best to make sure they had availability so that we could make that happen. It was incredible! It's one of the prettiest hotels I've ever seen," Julissa said.
"What I loved about working with Natasha was she never shot down my ideas or said something was impossible," Julissa said. "Instead, she'd help me improve what we wanted to do and made things more convenient. Her expertise absolutely came in handy and made everything the best it could be."
The luxury continued when the ladies visited County Mayo's Ashford Castle. From a lovely bike tour to tea time, they enjoyed their visit with plenty of activities at the end of their trip. A highlight before tea time consisted of sipping champagne while sitting on the castle's manicured lawn.
"It was like our last hurrah. We couldn't have left Ireland on a better note. We felt like we were in Downton Abbey!" Julissa said.  
As with all good things, the ladies' Ireland adventures came to an end. After their journey was over, they left the Emerald Isle and returned home. What began as a relaxing evening with friends turned into a whirlwind adventure.
The ladies crossed Ireland off their bucket list and made wonderful memories together.
"Natasha was the most professional person I've worked with in a very long time," Julissa said. "I would absolutely use Crystal Travel for any long trip I'm doing that includes a lot of sightseeing and planning. They knew what I wanted and absolutely accomplished it! My friends and I all had so much fun together."
The best of friends find fun wherever they go, whatever they do. That's certainly the case for Julissa and her friends who understand journeys aren't defined by where you are but by who you're with on the way.