Hi Elma,
The flight both ways had no complications and in fact United was a great airline that offered meals and great viewing choices for entertainment on individual screens. When we arrived in Scotland, we were a bit tired but Enterprise wasn't too far from the baggage claim. We did have to search a bit to find it. Once we did, the driving was a bit frightening. We did get it after a while but you certainly have to swim or sink right away. The first accommodation, the Melville Castle was extraordinary. The horses in the back yard of the castle in view out of our room window just set me in a great mood (missing my own horse at home) and the food and service was just what we needed. The location and convenience to Edinburgh was easy once we learned the lay of the land and of course the driving. I do wish we had a stay in Oban because we went there and it was magnificent.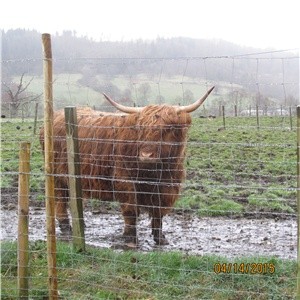 On our way to Inverness, we had some views that were spectacular at this time of year. Snow capped mountains, fields of sheep and their new born lambs, green fields, lochs and water falls everywhere. The animals and nature made me feel like a bug in a botanical garden. The animals were enormous and healthy looking and I was thrilled to see all I did. Inverness and the Culloden House was another great place and we were put in a garden cottage, that was private, quiet, and also connected to a gated secluded garden. What a gift this was. Both places had great breakfasts and friendly staffs. Our last stay in Glasgow was a bit more of a city atmosphere but we found a great place to eat the traditional Scottish fair on our last evening there. I think I would have like to stay a bit later that last day because we hardly stayed 15 hours in Glasgow. Check-ins were after 2 PM and we had to leave the Blythswood Square at 5AM so that was tough. We dropped the car off easily and had no issues flying home.
Thank you for a well done job and I will recommend your service to others as well as ourselves the next time we travel.
Laurel and Mitch, April 2015