Seven years at university to become a dentist would make anyone need a vacation. And that's just how Linda and her daughter Marissa chose to celebrate Marissa's graduation in May 2017. This trip would, of course, be a special one. The ladies wanted to spend a month exploring England, Ireland, Scotland and France. Linda was excited to show her daughter her old stomping grounds of England, where she'd lived for a few years. But she wasn't as familiar with Ireland or Scotland. The question was: How to plan? Linda took to Google and travel books for guidance. She was going to put the trip together on her own. However, the more research she did, the more daunting it became.
"I started getting overwhelmed on logistics and wondering, 'Is this the best way?'. So I decided to phone Ireland and get some more information." Linda said.
During the conversation, Linda explained what she and her daughter wanted to do and for how long. It was then she got some advice.
"The lady I spoke to told me to phone Crystal Travel and that they handle these types of trips really well," Linda said. "She told me the people at Crystal Travel will customize it."
As with any big trip, Linda had concerns. She worried about the cost of a month-long vacation. Before speaking to Crystal Travel, Linda
contacted an agency who booked small tours and learned it was quite expensive. But, like all proud moms, she persisted to see if she could make this trip with her daughter a reality.
Linda picked up the phone and met Elma. A West Cork native, Elma has worked in the travel industry since 2006. She is a Travel Expert at Crystal Travel and loves sending people to her home country.
"When I talked to Elma at Crystal Travel, she drew out of me what I wanted to do," Linda said. "She told me she could give us an itinerary based on the price we had in mind and we could see if that's what we wanted."
Elma's input on the ladies' trip left Linda pleasantly surprised.
"She came back with such a great itinerary, and I thought the price was just marvelous! I said, 'Well, I'm not going to waste my time doing any more.' My sister's traveled quite a bit. When I told her what we were doing and for how long, she just said, 'That's a marvelous price!' She told me she paid more than that for two weeks in England." Linda said.
"After Elma sent the itinerary, I sat down and I went on the computer. And I thought, 'Okay, let me see if I could book this. If I would have had her knowledge, could I book this trip?' And just using the computer, I couldn't have booked it as cheap as she did." Linda said.
But the cost wasn't the only important aspect. The mother and daughter hoped to customize their trip. They wanted to rent a car to experience the countryside. Additionally, they wanted accommodation with character. Rather than stay in chain hotels, the ladies told Elma they preferred something more original.
"Elma just nailed the accommodation! I couldn't believe how well she blended what I told her because every place was kind of unique in its own little way. We really enjoyed all the different places." Linda said.
During the trip, Linda and Marissa took advantage of their surroundings. From cycling through Killarney National Park to driving in the charming English countryside, they made wonderful memories.
The ladies took time to stock up on souvenirs, too. After their retail adventures, Linda and Marissa discovered they needed Elma to add extra bags to their airline tickets. Linda hoped it wouldn't be an issue.
"I think I got a hold of Elma late on a Friday, and it was done right away." Linda said.
"We had such great service. There was never a problem with check in or anything. That's due to Crystal Travel organizing it and having a good reputation with all their clients and vendors," Linda said. "I saw a lot of other people looking very frustrated, and I thought, 'I'm so glad that I didn't try booking this, myself.' "
Having never booked with an agency before this trip, Linda enjoyed the experience. She appreciated Elma's insight and guidance from the very beginning all the way to when they returned safe and sound.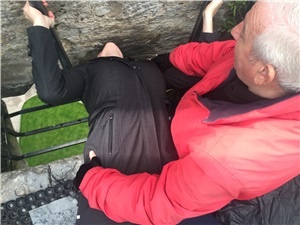 "The highlight of the trip was the way Elma planned the itinerary and gave us direction on what to do in every area and choices. She never demanded that we do something. Instead, she'd advise us not to miss certain things if they were worth noting." Linda said.
Together, Linda and Marissa made countless memories exploring Ireland, the U.K. and France. When they returned, the ladies shared their stories with loved ones and hope to go back one day for more adventures.
"I am now a big fan of travel agents and agencies," Linda said. "My sister, family and friends who were told about this trip all said, 'You keep Elma's name and number!' If I can get my husband to go, we're going to use you guys again."
It was the end of one chapter and the beginning of another as Linda and Marissa embarked on their journey across the pond. After all, what could be better than seeing a bit of the world before making your mark on it?
"This was a big trip," Linda said. "To have no issues – I still can hardly believe it. It seems like a dream."