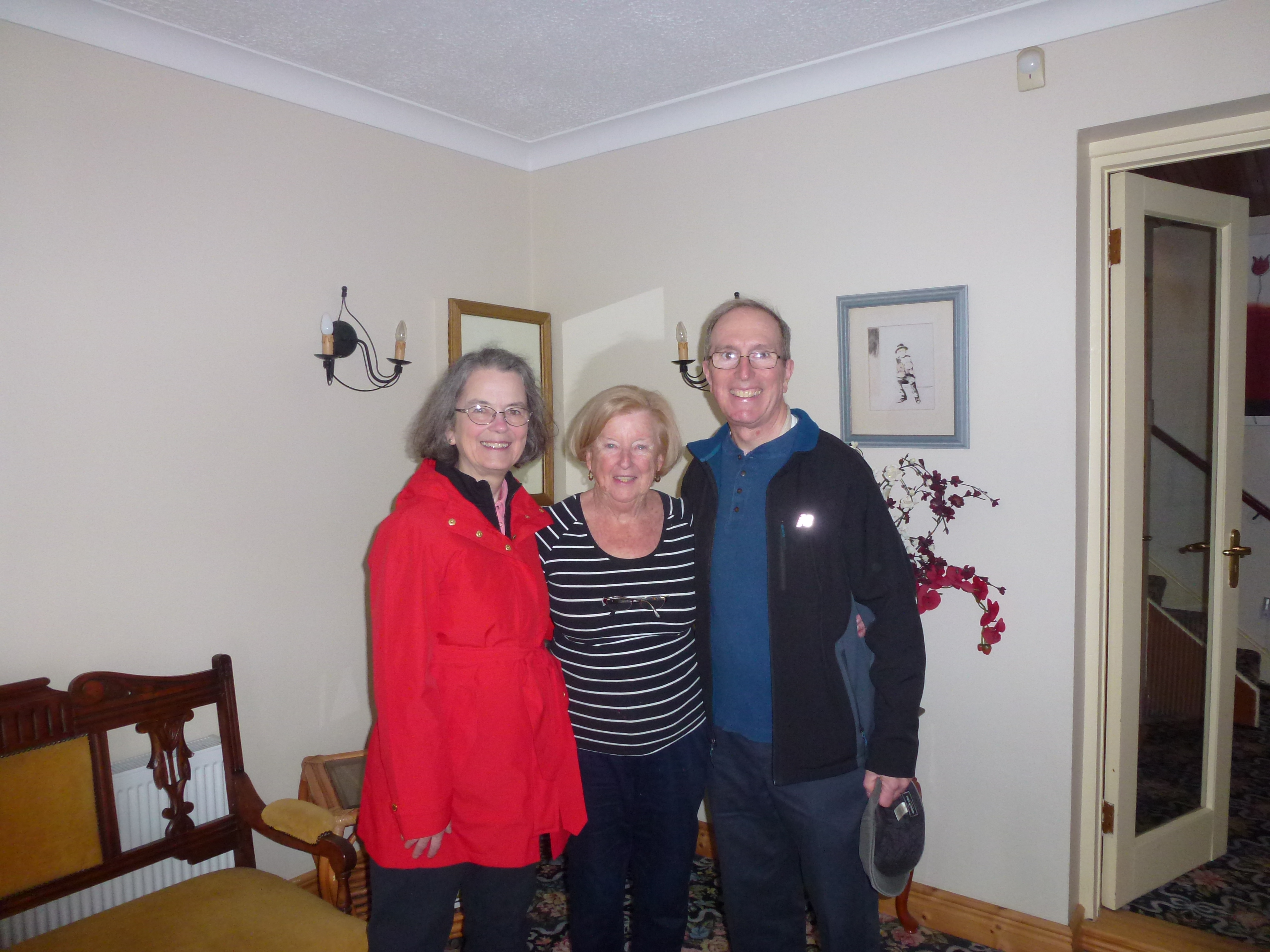 Getting work done on your car can be a long ordeal. To pass the time, some people bring a magazine or play on their phones. Instead, Michael chose to go for a stroll. He was pleasantly surprised at what would happen next.
"I went for a little walk, and all of the sudden, there was Crystal Travel & Tours. I walked in and Ann was sitting there. She greeted me, and I told her I had a few questions."
Michael said. For years, Michael and his wife Kathy dreamed of visiting Ireland. In the past, they'd contacted several travel agencies in hopes of planning the trip but didn't have much luck.
"Either they didn't get back to me, or they just never seemed to understand what we were looking for." Michael said.
The couple's questions and ideas were simple. Where to go? Where to stay? What to do there? All they needed was the right person to guide them. A Destination Specialist at Crystal Travel since 2014 whose mother hails from Galway, Ann was happy to fill that role.
"Just sitting down with Ann within 10 minutes, I realized this was a good deal," Michael said. "She was very accommodating and very willing to listen to our story."
This wasn't just a vacation. Along with seeing some of the country's sights, this was a quest to trace the roots of Kathy's family. Like so many others, she desired to see the place her ancestors were from.
Ann was delighted to help the couple in the planning process. She found accommodation for them in the Irish town of Ballymote, which is about 25 kilometers from Sligo. Originally, Michael wondered if it might be a little far from the city.
"Then we discovered, Sligo's not a big city. But the Ballymote place Ann put us in couldn't have been better. She really nailed it." Michael said.
The couple was delighted to receive such a warm Irish welcome from the B&B's owners, Peter and Noreen. From a wide range of tea and coffee to homemade goods, they greatly appreciated their hospitality. Peter and his family's knowledge of the area helped with their ancestry research, as well.  
"Having Ann put us in Ballymote – it was great," Michael said. "That put us in touch with Peter who recommended the Genealogy Office in Sligo."
"It wouldn't have happened this way unless there was a good connection between Ann and ourselves. She was definitely listening to us, taking things into account, leading us in the right direction," Michael said.
Michael and Kathy were in for a treat at the County Sligo Heritage and Genealogy Center. Among many gems, they came across Kathy's great-grandfather's marriage certificate. In those days, few people could read and write. Michael and Kathy were fascinated to see her great-grandfather signed his name on the certificate with an X.
"The researcher from the genealogy center was pointing these things out to my wife the whole time, and she may have even been more excited than my wife." Michael said.
The more time they spent, the more information Michael and Kathy unraveled. During their discoveries, they located the street Kathy's grandmother lived on, along with the gravesites of her grandmother's siblings.
"My wife was walking on air." Michael said.
Yet another highlight of the trip was sightseeing around Ireland's Wild Atlantic Way. Originally, they had a B&B booked in a town outside of Galway. But, they also wanted to take bus tours to see the famous Cliffs of Moher and the scenic Connemara region.
"Ann advised us to stay in Galway, itself, so that we wouldn't have to drive into town from this outer B&B just to catch the tour bus. I never would have figured that out on my own. Ann knew from experience." Michael said.
"Travel agents know where to go, what to do. Sure, the market is changing with online resources. But you've got to have some sense of what you're looking at," Michael said. "You don't just do it on your own and know it's going to work – especially when you're going out of the country."

After receiving Ann's insight, the couple switched to accommodation in Galway City where they had a short walk to hop on the tour bus. This saved them from having to drive narrow, busy roads into town and brought a lot of peace of mind. Michael and Kathy were big fans of Ann's accommodation suggestions throughout their trip.
"We always stayed in a good location. We could get around from there. We could walk to places. And we never would have been able to find all of this on our own." Michael said.
Among the couple's fond memories of the trip is a hidden gem they stumbled upon. In the town of Athlone, a place Ann suggested they stay in, Michael and Kathy discovered what is now one of their favorite restaurants. Like many other aspects of their vacation, the place became yet another treasured memory to look back on.
What started as a trip to the auto shop for a repair bloomed into something much bigger. Michael and Kathy embarked on the journey they'd long been hoping to take. Filled with sightseeing and uncovering a family's rich heritage, it's a journey they won't soon forget.
"This was a great trip," Michael said. "I mean it when I say we couldn't have done it on our own."