Crystal Travel was the best phone call I made to help my family and I plan our trip to Ireland.  I explained what I needed and was given options, ideas and suggestions that made each day worry-free and fun for all of us.  Crystal Travel helped me in advance to book my B & B's so that I did not have to worry about where to be at the end of the day.  Any question I had was answered as they were accessible to me by phone with no wait.  The tips they provided were invaluable and made our journey extraordinary.  We will certainly use Crystal Travel in the future.
– Michelle Baker, Amesbury, MA, March 2015
—————————————————————————–
Hello Ann,
We had an absolutely wonderful vacation!  Hotels and B&B's were great.I loved Helen McGonigle (proprietor of Old Church House in Kenmare). The people all over Ireland were friendly and helpful. It is a beautiful and CLEAN country! I didn't want to come home! Thank you so much for all you did to help us make this trip as perfect as it was!  We would all love to revisit one day! If so, we will definitely come talk to you again.
Sincerely,
Robin Abel, Marblehead, MA, April 2015
---
Hi Elma,
The flight both ways had no complications and in fact United was a great airline that offered meals and great viewing choices for entertainment on individual screens. When we arrived in Scotland, we were a bit tired but Enterprise wasn't too far from the baggage claim. We did have to search a bit to find it. Once we did, the driving was a bit frightening. We did get it after a while but you certainly have to swim or sink right away. The first accommodation, the Melville Castle was extraordinary. The horses in the back yard of the castle in view out of our room window just set me in a great mood (missing my own horse at home) and the food and service was just what we needed. The location and convenience to Edinburgh was easy once we learned the lay of the land and of course the driving. I do wish we had a stay in Oban because we went there and it was magnificent.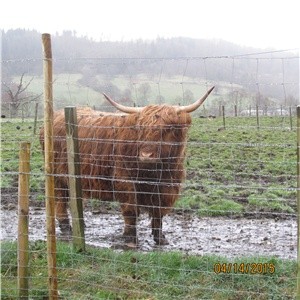 On our way to Inverness, we had some views that were spectacular at this time of year. Snow capped mountains, fields of sheep and their new born lambs, green fields, lochs and water falls everywhere. The animals and nature made me feel like a bug in a botanical garden. The animals were enormous and healthy looking and I was thrilled to see all I did. Inverness and the Culloden House was another great place and we were put in a garden cottage, that was private, quiet, and also connected to a gated secluded garden. What a gift this was. Both places had great breakfasts and friendly staffs. Our last stay in Glasgow was a bit more of a city atmosphere but we found a great place to eat the traditional Scottish fair on our last evening there. I think I would have like to stay a bit later that last day because we hardly stayed 15 hours in Glasgow. Check-ins were after 2 PM and we had to leave the Blythswood Square at 5AM so that was tough. We dropped the car off easily and had no issues flying home.
Thank you for a well done job and I will recommend your service to others as well as ourselves the next time we travel.
Laurel and Mitch, April 2015
—————————————————————————–
Ohhhhhhh Ann! I want to go back… right now!!!! There are no words to convey how grateful I am for having you and Crystal Travel as a resource! For over a decade I have purchased every one of my flights with Crystal Travel and your professionalism, guidance and patience is exceptional! TRULY!!! I thank you!
I did not plan anything extensive after my classes finished, other than a few BEAUTIFUL days out on Inisheer – the best kept secret in Aran. I met so many lovely people and several four legged loves!
So… you are not done with me – so long as I have a nickel in my pocket and Ireland is a puddle jump away – I will need more tickets and guidance.
Ann, you have been so great – I have all the info and suggestions you gave me and am hoping to implement it next summer, so thank you!!!!
Slan,
Mary-Kate
—————————————————————————–
Hi Ann,
We had a wonderful trip and enjoyed all of it. We saw so much! Weather was good too. The trip to the west coast was wonderful!
Marcia Walsh, Marshfield MA, June 2015
—————————————————————————–
Hi Ann,
Overall, we had an excellent trip and it exceeded my expectations. Ireland is a beautiful country and we truly loved it. Most importantly, our CIE tour guide, Domenic Dixon, was fantastic and was a big part of our enjoyment on this tour. He was entertaining and informative and we hated to leave him on the last night. It was losing an old friend after just 8 days. Loved the fact that we had access to the hotel rooms early that first day. I was not expecting that. Hotel check-ins were a breeze at every stop. That was great.
– Mastabys & McCarthys, MA (Irish Legends, May 2015)
—————————————————————————–
Ann,
I just want to thank you so much for all the planning of our trip. We had a fabulous time and couldn't have asked for more. If you ever need a recommendation, please let me know. We're looking forward to booking our next trip. There's a lot left to see, including Donegal!
Joan Mockler, Yonkers NY, July 2015 (Ireland & London Self-Drive)
—————————————————————————–
Hi Paddy,
I just wanted to say thank you for helping us plan an amazing trip! We truly enjoyed our first overseas visit to Ireland.
The accommodations you picked were phenomenal. Everyone was truly friendly and the rooms were clean and comfortable. Definitely not your typical cookie cutter places to stay. We really enjoyed that.
Thank you again for helping us to navigate through our flight delay and getting our rental car for the next day instead. We were very stressed and your guidance really did help. Please thank Kevin for us as well. We appreciate the assistance at 11 pm on a Thursday night. Also, thank you for the bottle of wine when we arrived. It helped us de-stress after a very long two days of traveling. We appreciated that personal touch.
I will be recommending Crystal Travel to everyone I can. You helped us create the perfect trip to Ireland. We're already talking about our next trip there where we will be using your services again.
Thank you,
Ashley and Kevin
—————————————————————————–
Everything was perfect!!! Seamless, smooth, and enjoyable are words that come into mind. We had an awesome trip!! Thanks again!! Loved the Park House – my favorite!!
– Kathleen Matthews, Quincy MA (August 2015)
—————————————————————————–
Hello Amanda,
I had an absolutely amazing trip! Ireland is truly a magical beautiful place! My mom did not want to leave she loved it more than any another place she went. Everything was great.
Overall I give this trip an A plus, really enjoyed it! I also am so happy I booked through Crystal Travel – you made it such an easy trip, had no problems with check ins, airline tickets or the car rental. I will book a trip through this travel agency again, that's for sure. I already recommended you to one of my friends who is thinking about booking a trip to Ireland! Thank you again Amanda for helping make this trip with my mom so perfect!
Erica Duke, Sherman Oaks CA (July 2015)
—————————————————————————–
Hi Sean,
We returned from our wonderful trip to Ireland yesterday afternoon. I wanted to write to thank you for your care in planning such a great trip for us. I feel as if we made the most of our eight days there – seeing various key parts of the "Wild Atlantic Way" . The accommodations you arranged were also top notch and very comfortable. We loved the varied experience of the Delphi Lodge and communal dining. I sat with people from Germany, Zimbabwe and South Africa! We also met some very nice Americans.
The driving was another interesting experience – I felt as if I was riding down my driveway at 60 mph! Agh! I had the map covering my face the entire first day there . . . but we managed to end our vacation without a scratch.
Your Ireland is beautiful, Sean, and we so enjoyed our time there. We will be in touch to ask for your help again in planning our next great adventure.
My best,
Susan Belko, Wenonak NJ (September, 2015)
—————————————————————————–
Kevin — Hi.
Am back safe and sound from the Vienna to Warsaw trip. MANY THANKS for your assistance in all the arrangements.
Although I still prefer the Croatia trip, this one had many highlights, and the tour guide was one of the most patient men I've ever met! Vienna was good — pricey but interesting. I LOVED Krakow. Medieval — reasonably untouched by the war — walkable — interesting shops — the best Holiday Inn I've ever seen, etc. etc. Auschwitz — Brutal and disturbing but something everyone should see in his/her lifetime. It was mind-numbing and horrible. Warsaw — The city park is spectacular, but the rest of the city is sort of blah.
Thanks again for all of your assistance with the tour, the airline reservation, and the insurance. As always, your expertise is much appreciated.
Ann Mitchell (Eastern Europe, October 2015)
—————————————————————————–
Hi Ann,
Thank you for all your help in planning the trip. You were very thorough and had excellent follow-up.
I definitely would go back to Crystal or recommend to friends.
K.K., MA (September 2015)