Where you were on this trip: Ireland
How would you rate your trip overall?: 5/5
Who was your Travel Expert?: Katie
How were your accommodations?: Great
What did you love?: We loved our hotel in Killarney, The Fairview Guesthouse! The couple that runs it was such a delight. They let us borrow their plates so that we could order some late night dessert to go from Cronin's down the street. I can't say enough great things about this cute place. The Ashford Castle is a MUST SEE! We felt like royalty the whole time.
Did everything go smoothly with your transportation?: Yes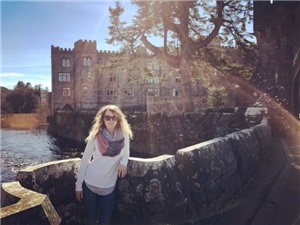 What did you love?: I had so much fun driving our own car and learning to drive on the opposite side of the road. Unfortunately we ended up having to pay a lot more upon arrival, Hertz told us we would not fit in the car reserved for us. Other than that the customer service there was great.
What tours, attractions, or activities did you particularly enjoy?: The Dingle peninsula was really pretty. We met some super sweet people up there. When I go back I would like to stay somewhere out there for a bit. We were blown away by the Cliffs of Moher. Pictures do not do it justice at all.
What was your favorite part of the trip?: Talking to locals and meeting new people. And of course, the Ashford Castle. 🙂
Would you travel with us again?: Yes
How can we improve for next time?: Katie was so amazing and was really patient with all our last minute changes and requests. It was a great experience working with Crystal Travel and Tours.