Brandon traveled to Ireland with his family in October 2019. He felt right at home in Dublin city, enjoying the sites by day and the nightlife later on. They had such a ball, he is already planning his next trip, and wants to stay in one of the seaside towns on the Wild Atlantic Way, where he hopes to catch some rays- if the rain stays away long enough!
Name: Brandon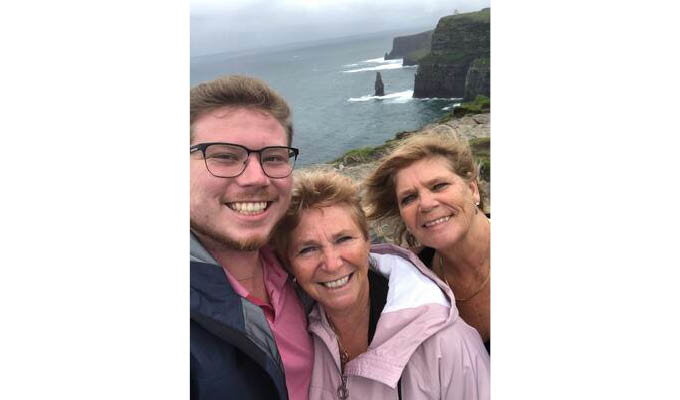 How would you rate your trip? 5/5
Who was your travel expert? Ann
How were your accommodations? Great. My favorite hotels were the one in Dublin and Kinsale. I am 6ft and I was able to comfortably fit in the bath in the hotel in Dublin and the shower in Kinsale was so tall that I couldn't even reach which was awesome. The food at all the accommodations was amazing. At the Mountain Dew Eileen had such a spread and would cook whatever you wanted ( and she supplied me with all the ice I need through the stay). The pool at Kinsale was amazing I could watch the sun rise over the cliffs while floating in the pool. The hotel in Galway was a great location and so close to town center
Did everything go smoothly with your transportation? Yes. All the drivers were friendly, on time, knowledgeable, and extremely flexible with anything that we wanted to do. Kevin brought us to the 9/11 outside of Kinsale which was amazing
What tours, attractions, or activities did you particularly enjoy? I loved Dublin! I felt right at home and it was a very walkable city. I went out to a gay club in Dublin on a Monday night and there was a drag show and the place was packed until 3am which was amazing. I loved the gardens around Blarney Castle and would love to wander around there one day. Mizen Head was an awesome detour I could have stayed there all day. The Wild Atlantic Way was an awesome bus tour and there are definitely some places I want to go back to (Inch Strand being one of them). Killarney National Park was gorgeous as well as Killarney itself.
What was your favorite part of the trip? Personally my favorite part was the first Monday of the trip in Dublin I went to a gay club alone and made friends, saw a drag show and was out way later than I should have been. 10/10 would recommend
Would you travel with us again? Yes
How can we improve for next time? The only quirk that I can remember is at the Guinness store house the line that you need to wait in is on the far left, someone has to look up that particular type of reservation
Any other questions or comments? I already want to plan my next trip!!! We drove through a few beach towns that I would love to stay at and catch some rays 🙂