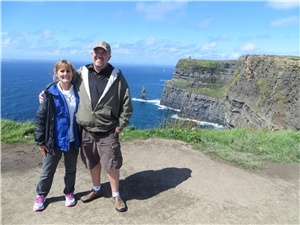 Hi Paddy,
The trip was excellent! England was beautiful, but Ireland has it beat hands down. I will definitely go back. I just wish the roads were a little wider 🙂
We saw quite a bit, and even tracked down some of the churches and homes of our ancestors. I even found the grave site of my 2nd great grandfather in Devon. I'm a bit of a genealogy buff.
The hotels were all great. The Parknasilla was by far the nicest. The hotel in Galway was a perfect location. The hotel in Cork was also a perfect location. The hotel in Dublin was also nice, but it was more in the business district than downtown. My dad was having trouble walking long distances by the end of the trip (he's 77) but we used the hop on/hop off bus when we could, and took a cab once or twice.
The hotel in London/Kensington was also in a great spot. There was a train station right next door, and we also used the hop on/hop off bus there. My brother brought his GPS, which came in handy while driving in Ireland. He recorded our route and we drove almost 1,000 miles while we were there.
Thank you for all your help in planning this trip. Given that we were first time visitors, it was a big help to have your guidance on where to stay and what to see.
Thanks,
Mike