Hi Ann
We had an absolutely great time on our trip! It was even better and more fun that I imagined! Everything went so smoothly; my husband and I commented on that and said that usually something goes wrong but really it didn't. Here is my summary of our trip:
Aer Lingus was amazing – no complaints. Each seat had its own entertainment system. Wonderful! Transfers to and from airports were perfect – on time and not one issue.
Took a student guided tour of Trinity and Book of Kells. We settled in and decided to venture out again. We just walked around near Trinity again, the main street for shopping, temple bar, etc. just seeing the sights. The 2nd day in Dublin we decided to start at the Kilmainham Gaol. When we got there it was sold out but they had an opening for 2:00 pm so we bought tickets and decided to go back later, which we did.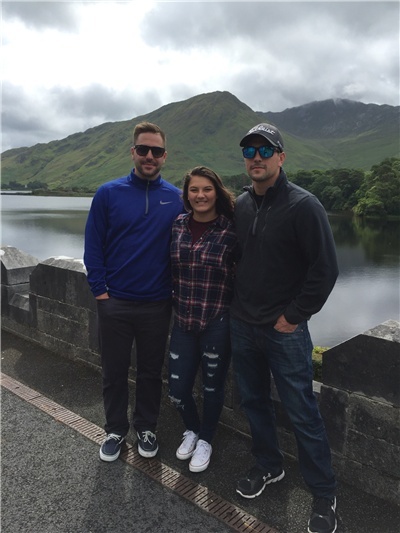 We went to Dublin Castle instead. The consensus was this was a favorite site in Dublin. Go figure! We did like the jail tour as well. There was a nice place to eat after the jail, right on the corner, I think Patriots pub it was called.
After the jail we walked to the Guinness factory. Personally, I thought it was overpriced and more touristy but we did the tour and the best part was the gravity bar at the top with 360 degree views of Dublin. Also, I have become a Guinness lover, which I never had tasted it before but now I'm hooked.
We went to the Brazen Head for dinner, which was good, and after stayed for the music. We had so much fun there. The boys always managed to stay out later than us! They loved it and always found the good night spots.
The day we left Dublin our driver Con came right on time, maybe even a little early. I can't say enough good things about Con. He was the best! Our van turned out to be a 10 seater so we had plenty of room. We drove to Rock of Cashel – loved; Blarney Castle – loved (although I was the only one to kiss the stone – the others didn't get it – oh well I was thrilled).
The next day we drove the Dingle Peninsula stopping to view some 2,000 year old beehives Con told us about and to look at the surfers on the beach – it was way too cold for that!! Stopped and had lunch in Dingle at Murphy's and walked around. It was a great outing. Back in Killarney we had a nice dinner at the Stonechat Restaurant.
The next day we left and stopped in Adare – it was ok – and onto Lahinch for lunch – we ate pizza at Vasilio's which was really good. Onto the Cliffs of Moher – no words just beautiful. All along these trips Con pointing out so many sites to us and filling us in on Irish culture, government, everything!! He made the trip great – no fighting with my husband over directions!
That day we drove through Connemara and stopped at Kylemore Abbey. It was perfect because by then everyone was a little tired so I won't lie, there was some sleeping going on during the ride. The last night we ate at An Pucan and we thought it was very good with an eclectic menu and the soccer match was on so it was very entertaining.
So that is my summary. Thank you soooooooooooo much. You planned an excellent and most importantly a memorable trip for our family. I will definitely be recommending your services to anyone I know wanting to go to Ireland. I will say too that having our own driver made the trip more enjoyable and took the stress out of everything.
Take care.
Robyn